First off, I am attempting an art project for our soon (hopefully) to be finished basement.  It involves this:
Second, as for an update:
Let's just say there's a LOT of this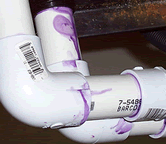 &
in the works.  We didn't pass inspection this morning because the stupid builder made STUPID decisions that our Contractor is now having to fix.  I did hear that out of the 16 building inspections recently, 7 have been from my subdivision, and ALL of them are facing this.  It really doesn't make me any happier to know this.  Why is it that big builders aren't held to the same standards that general contractors are?
Good news is that my new tile has shipped!!  I am hoping it is here by Friday or Saturday at the latest.